Explore idyllic gardens at historic houses this spring
Published 1 April 2022
Landscaped gardens, cascading countryside and perfect spots for a picnic – here's our pick of the best grounds and gardens to visit this spring.
Whether you're a lover of flora and fauna, looking for a breathtaking view or simply in search of the perfect location for a picnic, these historic houses all have fantastic outdoor spaces for a day spent getting back to nature in springtime.
Explore lovingly maintained and curated gardens, take a long wander through the countryside or catch up with a pal in a stunning location.
From the Italian-inspired gardens at Ickworth to the symmetrical flower beds at Audley End House, these are our favourite outdoor spots to visit now.
---
Want more inspiration? Sign up for our newsletter Art in Your Inbox and follow us on Instagram for more ways to engage with the art you love.
Theicon signifies when there is a National Art Pass offer
1
Prepare for an unusual sight as you approach Powis Castle, as this dominating medieval fortress appears to rise from the depths of a delicate garden. The front of the castle is lined with giant sculpted hedges and the gardens fan out in layers beneath it, home to rare shrubs, plants and original lead statues. You'd be forgiven for thinking this powerful structure could have inspired the Beast's castle in Beauty and the Beast. The deer park is perfect for a stroll and a spot of photography, while the 'wilderness' offers an incredible view of the house and gardens from afar.
2
Sunshine-yellow daffodils and purple hyacinths dominate the flower beds at Nostell's grand house in spring. If you're looking for a burst of colour, you won't be disappointed as different blooms and scents evolve year-round with the seasons. The spectacular parkland and gardens also boast wildflower meadows and peaceful lakes – plenty of spots to set up for a picnic or dive into a spring read.
3
50% off entry and exhibitions
The seemingly effortless landscape of Compton Verney is a product of leading 18th-century landscape artist Capability Brown, who replaced the house's formal gardens with expansive grassland and an array of trees in the mid-1700s. The result today is a glorious countryside woodland with unbeatable views, lakes, deer and huge areas for exploring. Several points around the gardens provide an optimal view of the house itself, and outdoor artworks will often pop up in various nooks and crannies.
4
Ever wondered where Elizabeth Bennet met Mr Darcy in Pride and Prejudice? The reflecting lake at Lyme Park of course! Surrounded by rolling countryside, the dazzling Italianate palace at Lyme Park has an English rose garden, deer park and moorlands perfect for fantastic walks and views. Perhaps your one true love is waiting at the water's edge...
5
The Italianate gardens at Ickworth are unique in the UK, combining the English rose with classic Italian charm. Sculpted trees, evergreen planting and unusual shrubs are all highlights. A colourful spectrum of flowers pops up around the rotunda in spring, while snowdrops scatter the ground in winter. There's even an all-weather trail to explore year-round, plus adorable farm animals onsite.
6
Syon boasts endless acres of charming gardens and rolling countryside, and is under 10 miles from the centre of London. The grass washlands here are home to intriguing wildlife, majestic ancient trees and hudreds of species of fungi, while lush trees, shrubs and brightly coloured flowers are a real draw for springtime visiting.
7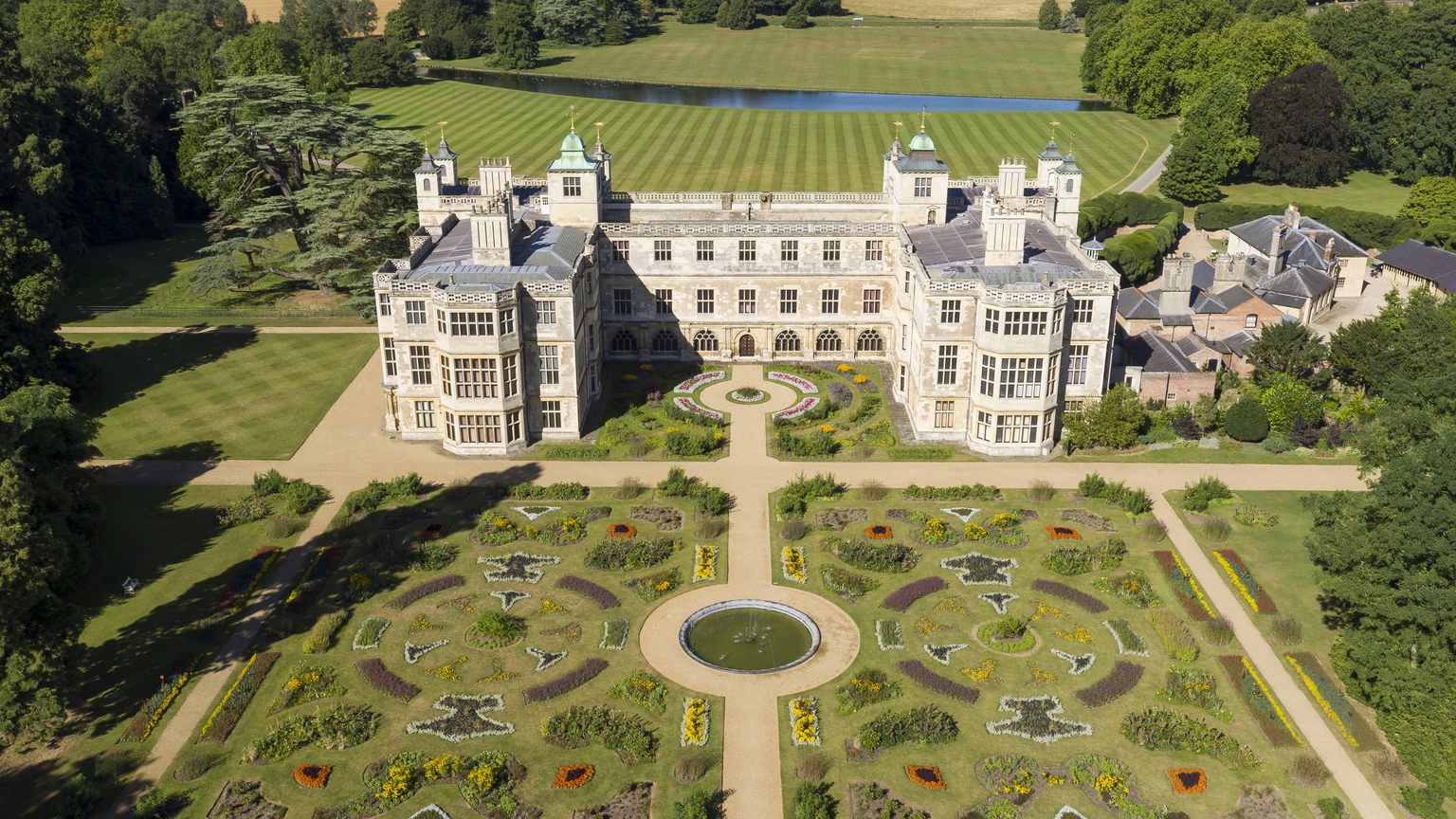 The grounds at Audley End are home to a stable full of horses you can visit, large lakes and spacious parks. Special highlights here include a memorial garden dedicated to the Polish resistance soldiers of the Second World War and a symmetrical patterned garden (or 'parterre') restored by Capability Brown. There's an endless selection of secluded, tree-covered spots to take in the beauty of the gardens or set up camp for a picnic.
8
Explore serpentine paths and botanical delights in the Woodland Garden, ornamental water features, statues, temples, follies and an abundance of wildlife, all in Castle Howard's impressive grounds. The castle's exterior was even used in the Netflix hit Bridgerton – so you can feel like a duke or duchess for a day, in the gardens of this stunning family home.
9
Possibly England's most spectacular 'lake house', Brantwood is the former home of prolific writer John Ruskin. The historic Lakeland estate includes eight gardens lovingly designed in different horticultural styles and offers stunning views across Coniston Water. This dream writer's home will fill you with creative ideas, while the experimental gardens might inspire you to try your hand at planting something of your own.
10
The gorgeous gardens at Brodsworth Hall are unique Victorian gardens in miniature. Having been lovingly restored, they now display a stunning variety of seasonal planting year-round. Spring is an ideal time to visit, as colour bursts from every flowerbed. Be sure not to miss the lovely rose garden and fern grotto, or even take a sculpture walk around the grounds.
11
A particular highlight at Dunninald is the Walled Garden, brimming with roses, thistles, daffodils and shamrocks, its plantings representing each of the four nations of the UK. There is also a shaded avenue of beech trees, woodland paths, wild gardens and woodlands to explore. And keep your eyes peeled for a sighting of rare red squirrels on the wood path walk. Dunninald Castle and Gardens will be open for visitors from May.
12
Perched on top of a hill, Claverton Manor, which houses the American Museum and its stunning gardens, has spectacular views over the River Avon. Period features such as a garden grotto, ornamental stone work and curtain walling are complimented by a beautiful array of vivid planting. Follow an outdoor trail, explore the Arboretum and discover a replica of George Washington's garden at Mount Vernon.
13
50% off entry and exhibitions
Sixty-five acres of manicured green spaces around Hall Place are home to an abundance of friendly wildlife, with squirrels, wagtails, geese, parakeets and a kingfisher all frequent visitors. But Hall Place is probably best known for its spectacular topiary – various trees shaped into animals are a particular highlight, originally designed in honour of the Queen's coronation. There is also a dazzling glasshouse with a huge number of exotic plants.